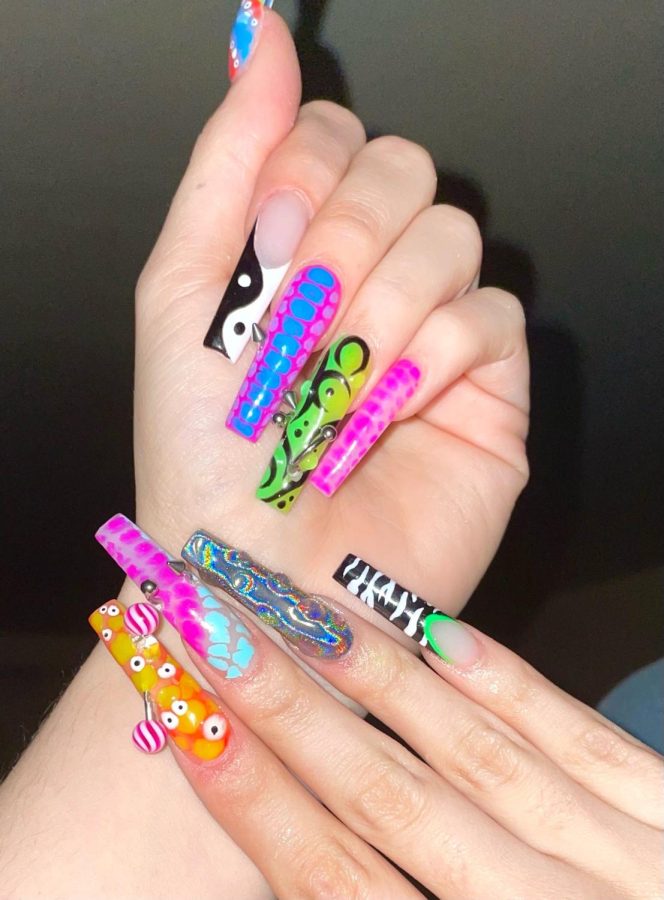 Suffolk nail artist runs small business from her dorm – The Suffolk Journal
As a nail technician and full-time student, sophomore Catari Giglio runs her own acrylic nail business at Suffolk University while tackling all the challenges of college life.
Giglio's affinity for nails began when she was 14. Growing up, she'd seen women on social media and girls at her school with perfectly decorated nails, and found herself arguing about the same thing.
"I wanted to get [my nails] hurts so much, but my parents couldn't really afford to take me to the salon every two weeks," Giglio said. "I had these done for my birthday once and fell in love with them so much I wanted to have nails all the time."
Inspired, Giglio was determined to find a way to learn how to apply and decorate acrylic nails herself.
"I found this really cheap starter kit for acrylic at CVS," she said. "And that's when I started doing my own nails."
What started as a personal passion quickly turned into a business. Giglio began taking on clients during her senior year of high school, becoming a part-time nail technician while being a full-time student.
"It's become a business and a passion, really. I love nails, it's almost a little obsession. I appreciate not only how pretty they are, but also the technique it takes to do them Knowing how to handle the product, the brushes, there are so many things that people don't know that go into the nails," Giglio said.
When Giglio arrived in Suffolk, bringing her things with her was an easy decision.
"I noticed that in the [student] group discussions over the summer just before freshman year a lot of girls were talking about "oh we're moving to boston now we need some new nail tech" and i [said], "I actually do nails and I go do them in the dorms," ​​Giglio said. "They were all so excited."
Giglio even had a client during her first year of moving in, and from there she said the news spread like wildfire.
In its first year, Suffolk Dormitories had strict restrictions on guests and occupancy. While Giglio said she was careful to follow the restrictions for everyone's safety, she noted it added an extra challenge.
"It was a little difficult with the restrictions, sure, but I made sure I didn't have more than one person in my room at a time," she said.
Giglio said she also requested that clients wear masks during the appointment.
However, COVID-19 wasn't the only challenge Giglio faced when setting up his business in Suffolk. She said managing her time between her business and school can be difficult, and that was a particular challenge last year.
"I think one of the mistakes I made in first grade was that I didn't have a set schedule for nail appointments, and even though I did, I kept doing exceptions for people," Giglio said.
To remedy this, she said she takes occasional breaks to focus on her own responsibilities outside of her business.
Since his freshman year, Giglio said he found a balance between school and his business. By creating a fixed schedule and only taking appointments on weekends, Giglio was able to better manage his responsibilities.
"I love doing nails, I love it and I wish I could devote more time to it than I do now, but there has to be a balance with school," Giglio said.
Looking ahead, Giglio admitted she wasn't sure where she saw her passion, but said she would love to own a small nail studio so she could work.
While she said she doesn't see herself running a full salon, Giglio aspires to make her passion more than just a "side hustle." She said seeing her own growth and progress in her art inspired her to keep working towards her dream.
"I have pictures from the start of the nail sets I was doing versus the ones I'm doing now, and I think, at least for me, it's been so satisfying to see the progress and to see how I've gotten better over the years," Giglio said.
Although she said she's improved a lot since she started doing nails, her artistry isn't the only skill Giglio has developed. She said her business has also taught her valuable lessons about respect and mediation in many different types of situations.
"It taught me how to deal with all kinds of different people because while I love it, it's a customer service job and we know there can be complications with customers from time to time. time," she said. "But I think it gave me a better sense of how to treat people and how to treat them with respect, how to have mutual professional communication even when someone frustrates you."
Giglio is currently taking on new customers and can be found on Instagram @nailsby_catt. To make an appointment, students can use it Calendar link in his Instagram bio.