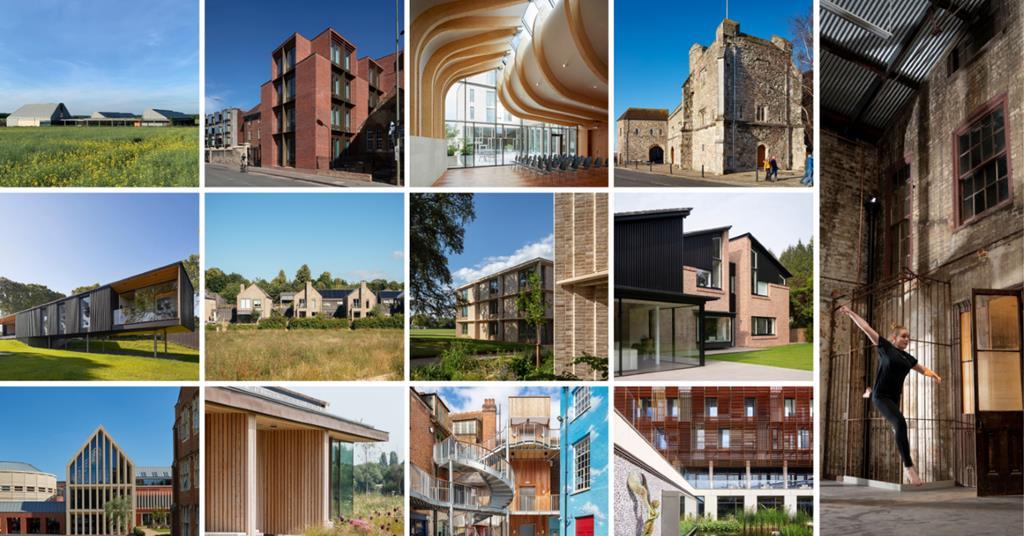 In pictures: RIBA regional winners announced | News
The RIBA has revealed the winners of its regional winners, with big names picking up gongs across the country including Purcell, Heatherwick, Sheppard Robson, dRMM and AHMM.
Carmody Groarke, Feilden Fowles and BDP also walked away with prizes.
An overall Building of the Year winner will be announced for each of the English regions at a ceremony at RIBA's head office at 66 Portland Place on May 24.
The RIAS Awards, which reveal the Scottish winners, will be announced next month.
All of these winners will go forward to be considered for the RIBA National Awards. The winners of these accolades make up the pool from which the Stirling Prize shortlist is drawn.
For more details and images of all the winners, follow the regional links on the regional headings below.
Cambridgeshire
1704_Wuduhus, Huntingdon, Mole Architects
36 Storey's Way, Churchill College, Cambridge, Cottrell & Vermeulen Architecture
Civil Engineering Building, Cambridge, Grimshaw with HPR
Copper House, Cambridge, Boucher Bayley Architects
Ely Museum, HAT projects
Brothers, St Ives, Mole Architects
Magdalene College Library, Cambridge, Niall McLaughlin Architects
Wintringham Primary Academy, St Neots, dRMM Architects
Essex
Brentwood Preparatory School, Cottrell & Vermeulen Architecture
Hertfordshire
Central Surgery, Sawbridgeworth, HawkinsBrown
Criss Cross House, Hertfordshire, Ashton Porter Architects
Norfolk
BlueSky Barn, Norfolk, 31/44 Architects & Custom Space
Nencini Studio, Norwich, Alder Brisco (now Brisco Loran and James Alder Architect)
Suffolk
Aldeburgh House, David Walker Architects
NW2 participation building and theater square, WGP Architects
Stone Cottage, Suffolk, Haysom Ward Miller Architects
Sutton Hoo, Woodbridge, Studio Nissen Richards
Ada Belfield Center and Belper Library, Derbyshire, Glancy Nicholls Architects
Derwent Valley Villa, Derbyshire, Blee Halligan
Ravine House, Chesterfield, Chiles Evans & Care Architects
Lyth Building, Southwell, Evans Vettori Architects
The Scrolls, Northamptonshire, Will Gamble Architects
100 Bishopsgate, Allies and Morrison with Arney Fender Katsalidis
100 Liverpool Street, Hopkins Architects
198CAL, SculptorHaggard
245 Hammersmith Road, by Sheppard Robson
Artist studio in Stepney, Martin Edwards Architects
Place Barth, by Sheppard Robson Robson with Maccreanor Lavington and Piercy & Company
Beautiful View, by Morris & Company
Edge of the BFI river, Carmody Groarke
Breakers Place, Nottingdale, by Allford HallMonaghan Morris
Cromwell Square, by Buckley Gray Yeoman
Ditton Hill House, by Surman Weston
Hackney New Primary School and 333 Kingsland Road, by Henley Halebrown
Hackney School of Food, by Surman Weston
Harris Academy, Sutton, by Architype
Hawley Wharf, by Allford HallMonaghan Morris
House in Primrose Hill, by Jamie Fobert Architects Limited
Hoxton Southwark, by Lifschutz Davidson Sandilands
Ibstock Place School Canteen, by Maccreanor Lavington
Square of the oven, by Peter Barber Architects
Lambeth Palace Library, by Wright & Wright Architects
LB Southwark SILS3, by Tim Ronalds Architects
Leyton House, by McMahon Architecture
Extensive renovation of Mews House, by Prewett Bizley Architects
Mews House, by creative mass
Mountain view, par CAN
NoMad London, by EPR architects
Orchard Gardens, Elephant Park, by Panter Hudspith Architects
Peveril Gardens and Studios, by Sanchez Benton Architects Architects with Gabriel Kuri and Nigel Dunnet
Pitched Black, by Gruff architects
Plumstead Center, by Hawkins Brown
Royal Wharf Primary School, by Feilden Clegg Bradley Studios
Sands End Arts and Community Center, by Mae Architects
Sideways House, by Leep Architects
Sir Michael Uren Hub, by Allies and Morrison
Rue Saint-Jean, by Emil Eve Architects
St John's Church, Hackney, Par Thomas Ford & Associates
The Library House, by Macdonald Wright Architects
The Post Building, by Allford HallMonaghan Morris
Treehouse, Ealing, Par Fletcher Crane Architects
Victoria House, Bloomsbury, by Hutchinson & Partners
Woods Wharf, by Architecturall Ltd
Yorkton Workshops, by Architects of the Château de Cassion
Newcastle Civic Centre, Newcastle upon Tyne, Faulkner Browns Architects
Northbank, Northumberland, Elliott Architects
Shepherds Barn, County Durham, Jump
Lancaster Castle, Lancaster, BDP
New Pooley Bridge, Penrith, Knights Architects
Special Exhibitions Gallery at the Science and Industry Museum, Manchester, Carmody Groarke
The Fratry, Carlisle, Feilden Fowles
The Old Library, Liverpool, IMO Architects
The reception building at RHS Garden Bridgewater, Salford, Hodder & Partners
Swansea Private Residence, Swansea, Loyn + Co
Barn Pavilion, Cardiff, Beham Architects & IBI Group
Development of the North Wing of Altnagelvin Acute Hospital, Derry, HLM Architectes & Hall Black Douglas
Aras Ui Chonghaile, Belfast, McGurk Architects
Ballyscullion House, Bellaghy, McGingle McGrath
House in the Glebe, Eglinton, Marshal McCann
North West Multimodal Transport Hub, Derry, Consarc Design Group
Barton Farm Primary Academy, Winchester, HCC Real Estate Services
Catherine Hughes Building, Somerville College, Oxford, Niall McLaughlin Architects
Cohen Quadrangle, Exeter College, Oxford, Alison Brooks Architects
GHT – House of God Tower, Southampton, Purcell
Isle of Rest, Isle of Wight, Ström Architects
Lovedon Fields, Kings Worthy, Hampshire, John Pardey Architectswith BBA Architects
Masters in Field Development, Balliol College, Oxford, Niall McLaughlin Architects
Olivier Hall and Christie Centre, St Edward's School, Oxford, TSH Architects
Push-pull house, Amersham, Buckinghamshire, Studio Cullinan
Thames Hospice, Maidenhead, KKE Architects
The History Museum, Oxford, Purcell with United Kingdom , RFK Architects& Tom Piper
Treadgolds, Portsmouth, Pritchard Architecture
University of Winchester West Downs Centre, Winchester, Design Engine Architects
Cobham Dairy, Cobham, Kent, Purcell
Aisher House, Sevenoaks School, Sevenoaks, Kent, Tim Ronalds Architects
The Mitchell Building, Skinners School, Tunbridge Wells, Kent, Bell Phillips Architects
Sir Sydney Camm Science & Technology Building, Claremont Fan Court School, Esher, Surrey, Fletcher Crane Architects
Guildford Crematorium, Godalming, Surrey, Haverstock
Sea Breeze, East Sussex, RX Architects
Morlands Farm Dutch Barn, West Sussex, Sandy Rendel Architects
Creek House, Cornwall, Seth Stein Architects
Great Brockeridhe, Bristol, CaSA Architects
The Red House, Dorset, David John Architects
Bristol School of Engineering, Bristol, AHR
Winsford Cottage Hospital, Devon, benjamin+beauchamp
Stanbridge Mill Library, Dorset, Crawshaw Architects
Honey and Nut House, West Midlands, Intervention Architecture Ltd.
Mill Lodge, Warwickshire, Michael Kendrick Architects
A Chamberlain Square, West Midlands, Eric Parry Architects
The Undercroft Learning Centre, Worcester Cathedral, Worcestershire, Acanthus Clews Architects
Winter House, Scott Donald Architecture, Staffordshire, Scott Donald Architecture
The Alice Hawthorn, North Yorkshire, De Matos Ryan
Leeds Gateway, Leeds, Gagarin workshopwith DP squared
Maggie Centre, Leeds, Heatherwick Studios
Carnegie School of Sport, Leeds, Sheppard Robson