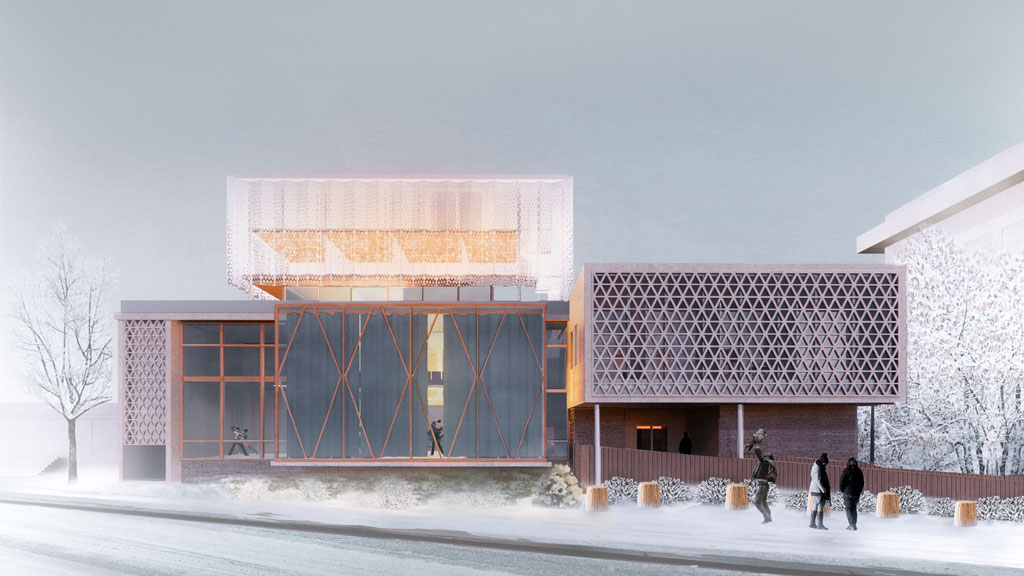 Architecture student wowed by design of former Waterloo police building
A University of Waterloo architecture professor took 90 students outside the classroom to complete an adaptive reuse design exercise on a real-world building, the 63-year-old former building of the Department of Waterloo Regional Police on Frederick Street in downtown Kitchener.
The results of some of the sophomores' efforts have been surprising, especially that of 20-year-old Loriane Wong.
Wong, who was inspired by the original drawings of the limestone building from 1958, "when hand drawing was an art form", reused the facade to animate the building while paying homage to its past, explains Rick Haldenby, the architecture professor who supervised the exercise.
"I wanted to reinterpret the interesting language of the existing floating wrapped volume," in part by adding pre-engineered screens to the facade, Wong told Daily Commercial News.
Entitling his project "Hover, Wrap, Connect", Wong says his design is an effort to create "a community hub" for the city.
"It ties into the building's history while creating a strong identity for its future," said Wong from Vancouver where she works as an intern through her school co-op placement for architectural firm Campos Studio.
Haldenby is impressed with her work.
Only halfway through her second year, the young student "is making drawings that would make a professional proud," he says.
"She clearly understood the original design. His ideas were of a very high standard.
Wong's plan includes 20 studios, a 225-seat main theater and a 120-seat incubation theater. She sees the building as a link between the public and the artists.
Haldenby says he hopes the work of Wong and other sophomores will be on public display and that their designs could influence the municipality on future downtown development.
He says that while private-public investment in development was evenly split between 1993 and 2017 in the heart of Kitchener, today most projects are in the hands of private developers.
The design exercise on adaptive reuse is in line with Haldenby's belief in repurposing old building stock, including a number of important commercial buildings after World War II, rather than replacing them.
He says the city has seen unprecedented commercial/residential development in recent years that will double the population of the core. However, all this development will not improve the kernel.
"My program aims to make our community understand the value of what they have and to take a critical look at the current construction boom."
Last spring, Haldenby published a guide to the transformation of the central area which includes a one-hour walking tour of 20 active construction projects which, when completed, will see the area's population grow by thousands of workers and new residents.
The guide (Inten-City) also identifies four eras of development leading to the current boom which began in 2018.
Haldenby also led a design studio/exercise last summer with fourth-year architecture students on the impact of rapid development on the city's public space and cultural institutions. It culminated in an exhibition for the public and community leaders.
The architecture professor says the second- and fourth-year design exercises were conducted with input from community stakeholders, including arts groups, city planners, politicians and developers.
This kind of exercise for students of schools of architecture in the province is rare.
"I think it's a really valuable experience for early-career students."
Although the pandemic has slowed new construction in Kitchener in part due to supply chain and labor issues, it is unclear whether this will translate into an increase in adaptive reuse projects, says- he.
"There are a lot of serious reviews in many areas associated with reuse…the true costs of demolition, embodied energy, life cycle analysis."
Wong sees adaptive reuse not only as important from a sustainability perspective, but also because it "perpetuates the culture of a certain place."
"For me, these projects are really exciting because you learn what's been there and you have to work with what's given to you instead of starting from scratch."