The new Mercantile building, an impressive addition to downtown Fargo – InForum
FARGO — The Mercantile is ready for business.
Since its opening on April 1, 60% of the 100 apartments in the six-storey building have been rented.
There is also 17,000 square feet of first-floor retail or restaurant space facing Broadway and Fourth Avenue North available for development.
Keith Leier, vice president of development and construction for Kilbourne Group, says his company and partners have transformed an underused corner into an impressive addition to downtown Fargo.
"It's a pretty big corner and it was basically a parking lot," Leier said during a tour of the building on Tuesday, April 19. Today, "it is the first apartment building to be built on Broadway in 75 years".
The Mercantile complex includes a city-owned parking lot with more than 360 spaces, and The Great Northern Block, a nine-condo development set up by Tom and Kari Smith, owners of the neighboring Great Northern Bicycle Company.
Once apartments and condos are filled, more than 200 more people will live downtown, Leier said.
"There is a very high demand for people who want to live downtown," Leier said.
The Mercantile at 405 Broadway was designed to blend in with older downtown architectural styles, with its first four brick floors, while offering modern amenities.
All units have washers, dryers and their own heating and air conditioning units.
The apartments have remote Bluetooth access, controllable via tenants' smartphones. Sensors in apartments can tell if heating units are failing or if a washer is leaking, notifying the property management company.
"It gives you a little peace of mind, which is good," Leier said.
Many apartments have floor-to-ceiling windows, bringing in natural light and immersing residents in downtown life.
For example, a fourth-floor apartment, with windows on the Broadway and Fourth Avenue sides, offers lovely views of Broadway to the south — a plus for fans of the annual Christmas and St. Patrick's Day parades.
The building's name is a tribute to a four-story brick structure that was built at 401-403 Broadway in 1909 for Fargo Mercantile Co., a wholesale grocer that had operated in Fargo since 1895.
This building was designed by the Hancock Brothers and built by CH Johnson & Co. The company's offices were on the first floor, the second floor was dedicated to packaging and cigars, and the rest of the building was dedicated to storage . A railway spur behind the building gave it direct access to nearby Great Northern Railway tracks. It was demolished in 1966.
In 1968, the one-story Goodyear Service Center was built. It served the downtown community for 48 years before closing in 2016.
In December 2019, the ground was thrown for the Mercantile. The first phase to be completed was the parking ramp, with nearly 370 spaces. It opened at the end of 2020.
The northeast corner of the development is called The Great Northern Block, with nine condominiums designed to resemble the townhouses seen in New York and other major cities.
About half of the three-story condos are sold, and completion is expected in late summer or early fall.
"I think we really feel a strong connection to downtown and we're preserving and creating things downtown," Tom Smith said Tuesday.
The Smiths were immediately drawn to the Mercantile project.
"Kari and I decided it was something that was close to our hearts," said Tom Smith. "We thought we would step in and be part of that development."
Condominium prices range from $350,000 to $700,000, depending on square footage, with buyers enjoying flexibility in layout and layout.
The condos also have an "upper courtyard," a 5,000 square foot rooftop community space with a full kitchen, "clubhouse," bocce court, and theater.
The condos are eligible for Zone Renaissance and Zone Opportunity tax incentives ranging in value from $50,000 to $150,000.
"It's a great job of paying homage to older architecture," Leier said. "They did a terrific job.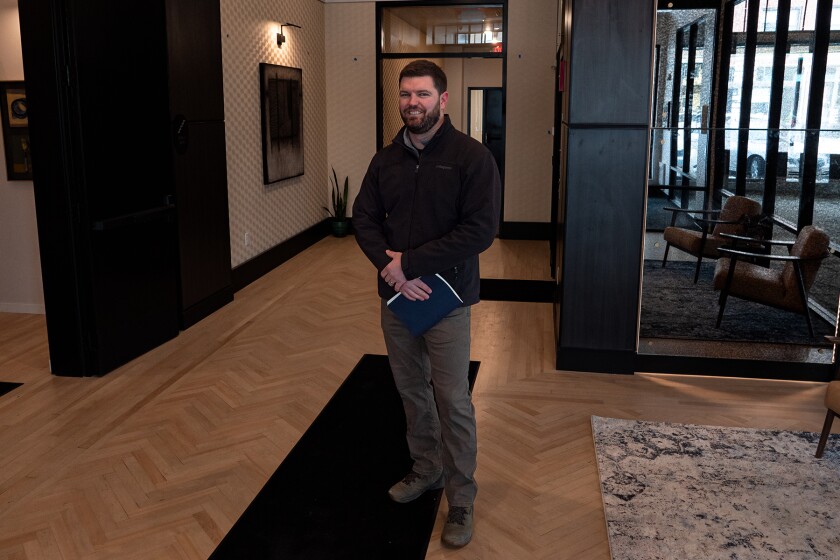 Hundreds of apartments have come online in downtown Fargo in recent years.
In fact, Kilbourne Group will be responsible for around 360 apartments this year.
In addition to the 100 Mercantile apartments, two other mixed projects will open this summer:
Kilbourne Group also has two other projects underway.
The developer received city commission approval in early April to develop the site of a former Fargo School District warehouse at 419 3rd St. N. The company plans to build a $25 million apartment complex and of 115 units. Kilbourne is also buying adjacent property for the project.
In February the City Commission voted for City staff to go ahead with the planning and creation of a development agreement between the City, Kilbourne Group and Global Development to construct a multi-storey building for use mixed on an NP Avenue parking lot that could also determine how the old Herbst Building on Broadway is redeveloped.
The public-private partnership aims to transform the surface land of the 600 block of NP (between Old Broadway and Renaissance Hall at North Dakota State University) into a building with commercial space on the ground floor floor, 150 to 200 apartments on the upper floors and a car park with 500 to 600 spaces.
Merchant tenants so far include empty nests, young professionals, families with children. "You really get a good cross-section of people," Leier said.
It helps that the building is pet-friendly (there's a dog laundry room) and a storage room designed to safely keep dozens of bikes.
A second-floor community room features a pool table, entertainment area, and access to an outdoor rooftop patio with fire pits, grilling stations, and ample seating.
Commercial rental rates start at $1,050 to $1,250 per month for a studio; one-bedroom units cost between $1,150 and $1,800; two bedrooms cost between $1,900 and $2,300 and three bedrooms (all of which have been rented) cost between $2,600 and $2,800.
Leier said Kilbourne Group has made a point of aligning its objectives with the town's long-term plans for the town centre.
"We're on track to achieve what the city envisioned 25 years ago," Leier said, adding there's no reason downtown Fargo shouldn't have 20,000. and 25,000 inhabitants.
"Downtown is doing great things," Leier said.