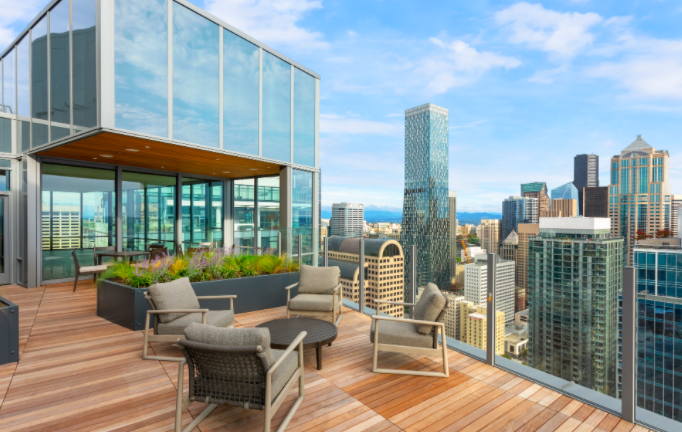 The Emerald, Seattle's new waterfront luxury condominium tower above Pike Place Market, celebrates building completion
The Emerald represents an exciting new chapter for the city of Seattle. As downtown Seattle continues to evolve at a rapid pace, we are excited to be a part of Emerald City's new make-up and prosperous future.
SEATTLE (PRWEB)
October 13, 2020
Daniels Create World Seattle and Create global real estate de Bellevue is proud to announce the completion of Emerald, Seattle's newest luxury condominium tower, located above downtown's iconic Pike Place Market and the city's newly redesigned waterfront. Designed by a world-renowned Seattle-based female team, Julia Nagele of Hewitt Architects and Susan Marinello from Susan Marinello Interiors, the 40-story waterfront residential building in faceted glass unveils a striking collection of 262 signature studios, one-, two- and three-bedroom residences and penthouses with bespoke amenity spaces and unparalleled 360 degree views overlooking Elliott Bay, the Olympic and Cascade Mountains, the Space Needle, Mount Rainier and more. Along with this major milestone, The Emerald also unveiled a new collection of model residences for interested prospects looking to relocate to The Emerald. Featuring a design curated by Staging ASH, a division of the AD100 design firm ASH NYC, the collection of six one- and two-bedroom model homes offers an intimate look at life at The Emerald, displaying a range of designs that celebrate the diverse personalities residing at Seattle's defining new address.
"We couldn't be more excited to launch The Emerald and deliver the city's incredible waterfront to our owners' gardens," said Dehlan Gwo, Director of Marketing and Sales for Create World Real Estate. "The Emerald represents an exciting new chapter for the city of Seattle. As downtown Seattle continues to evolve at a rapid pace, we are excited to be a part of Emerald City's new make-up and prosperous future.
The private residences at the Emerald range in size from approximately 579 to 1,189 square feet with an exclusive collection of 22-residence penthouses offering two-, three- and four-bedroom single-story residences up to ~ 3,948 square feet . Ranging from $ 500,000 to over $ 3 million and up to $ 10.9 million for penthouses, each residence offers Latch Contactless and keyless entry technology for seamless and secure access, plus floor-to-ceiling windows with incredible views. Showcasing the finest finishes, the residences offer wide plank European white oak hardwood floors, custom wood cabinetry with built-in lighting and quartz countertops. All luxury residences feature hand-selected high-end walk-in closets and materials, including natural stone slab countertops and backsplash, natural stone floors, and stylish soaking tubs. The two top-floor penthouses at the Emerald, Trillion and Marquise, feature unique floor plans resembling eponymous gems. Offering the crème de la crème of interiors and design with stunning views of Seattle's natural backdrop, The Trillion is listed at $ 10.9 million, making it the most expensive luxury list. from Seattle to the city's waterfront.
"Seeing our work completed is incredibly rewarding," said Julia Nagele, Director of Design at HEWITT. "From its inception, The Emerald was designed to harness the energy of the downtown energy community. The angular shape of the tower provides powerful views for every residence and amenity space, including the Olympic Hall, the pinnacle of the rooftop experience. Residents of Emerald experience Seattle in a way that can never be replicated. "
The Emerald offers highly organized amenities carefully designed to enhance the building's prime location and breathtaking panoramic views. Residents of The Emerald enjoy access to a full-floor rooftop terrace featuring the Olympic Hall and an impressive double-height glassed-in club room with a catering kitchen opening out to Puget Sound and the mountains Olympic Games, as well as an indoor and outdoor lounge and fireplaces. A third-floor indoor and outdoor amenity space designed with a vibrant display at Second Avenue offers owners an outdoor pet run, pet spa, state-of-the-art fitness center, yoga studio and a guest suite. For added convenience, all residents of The Emerald enjoy on-demand access to Tesla Model X and Model S vehicles through a unique partnership with Envoy Technologies. In addition, thanks to an exclusive partnership with the adjacent luxury boutique hotel, Thompson Seattle, all Emerald owners enjoy a unique dining experience consisting of discounted meals at Conversation, Thompson Seattle's signature restaurant, and a secret menu of signature cocktails at Nest, the rooftop lounge bar of the hotel. For the chance to fully experience the vibrant Pike Place Market district, Thompson Seattle also offers owners and prospects a one-of-a-kind "Hard Hat Home Away Package" with stunning views, walking distance to restaurants. fine dining, coveted retailers and the city's beloved public market.
"The Emerald represents a unique opportunity to own in an unprecedented location," said Josh Nasvik, Managing Director of Polaris Pacific. "The building's carefully selected floor plans, designer finishes and panoramic views have been very well received by buyers and the broker community at large. In the past eight weeks alone, our team has achieved over $ 10 million in sales and we plan to build on this momentum as we close the year. This completion step will surely continue to attract a large audience to such a rarefied product. "
For a complete five-star hotel experience, The Emerald has partnered with an award-winning hotel management and management company. Colombian hospitality to provide highly personalized concierge services, top-notch hospitality and high safety and security standards. Columbia Hospitality's first-class team offers Emerald owners a curated waterfront living experience with a rich calendar of events and resident experiences, as well as exclusive resident and guest discounts. Complimentary upgrades to various attractions, hotels, resorts and golf courses in Seattle and the United States.
Located in Second and Stewart, The Emerald's central location offers easy access to the vibrant Pike Place Market area featuring a new mix of small businesses, top-notch restaurants and bars, world-class museums, galleries and more. In addition to being less than a block from future waterfront redevelopment, including the future Scenic Parkway, the Seattle Aquarium Ocean Pavilion, and various plazas and parks along the boardwalk, The Emerald is 30 minutes away. minutes from SeaTac International Airport and close to Seattle's growing tech campuses. through downtown and South Lake Union.
For more information or to schedule an in-person or virtual tour, please visit https://theemeraldseattle.com or call 206-429-8903.
###
About the emerald

The Emerald is a modern, residential condominium tower of 262 studios, one, two, three and four bedroom residences and penthouses located in the heart of downtown Seattle. An iconic addition to the Seattle skyline, The Emerald consists of a forty-story residential tower with two ground-level retail spaces, facing panoramic views of Puget Sound and the Olympic Mountains, at a block from the iconic Pike Place Market and two blocks from the Seattle Aquarium and the soon to be reinvented waterfront. Facilities will include a rooftop amenity area with indoor and outdoor lounge, outdoor pet park and state-of-the-art fitness center, as well as additional parking, dining and exclusive offers through to a unique partnership with Thompson Seattle. Owners will also benefit from Latch keyless technology, as well as access to Tesla electric vehicles through an on-demand ridesharing program with Envoy Technologies. Andersen Construction is the general contractor of the project.
MEDIA CONTACTS

Public Relations Murphy O'Brien

Michael Altneu | Vanessa Villatoro | Brandon muratalla

[email protected]
Share the article on social media or by email: