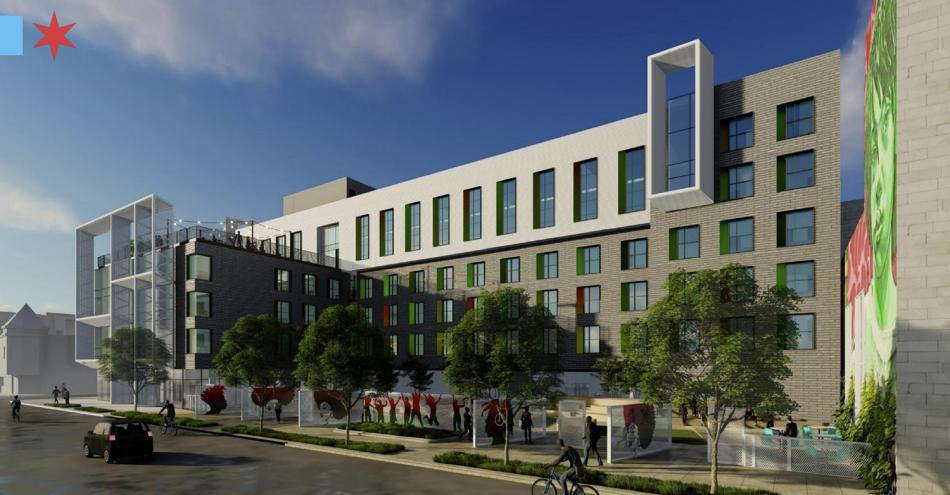 Laramie State Bank Building Renovation Approved, Chicago
Renovation plans for the Laramie State Bank Building at 5200 West Chicago have been cleared by the Permit Review Board. The building will be repaired and restored as part of the development, under the Austin United Alliance plan which received the Austin Invest South/West RFP.
Heartland Housing Alliance and Oak Park Regional Housing Center are leading the development. The historic Laramie State Bank building will be renovated and reopened to the public with a new bank, cafe, blues museum and office/coworking space, according to the landmarks division.
Look for construction leads
Also Read: Bridgford Foods Corporation Chicago Food Processing Plant to Be Redeveloped into 750,000 Square Foot Mixed-Use Complex
The entire development, designed by Valerio Dewalt Train Associates, will result in a six-storey residential complex. The 69-foot-tall skyscraper will have 76 residential units, 30 parking spaces, 55 bike stations and a variety of amenities for tenants. There are 36 one-bedroom apartments, 35 two-bedroom apartments and five three-bedroom rentals. An outdoor rooftop terrace, exercise area, computer room, social space on each floor and common room on the ground floor are among the amenities.
Learn more about the Laramie State Bank Building Renovation
The new design, led by Latent Design, will reconstruct the interior of the main banking hall and upper levels. Currently in disrepair, the main hall will have a restored coffered ceiling under which will be located the cafe, the Blues Museum exhibit and a new bank branch.
The exterior of the building will also be repaired, with Bauer Latoza Studio leading the restoration process. The exterior terracotta is currently in poor condition, extensively cracked and missing pieces. The current terracotta will be restored and the parts that cannot be preserved will be replaced. Existing windows will be replaced with new ones that have the same profile as the old ones.