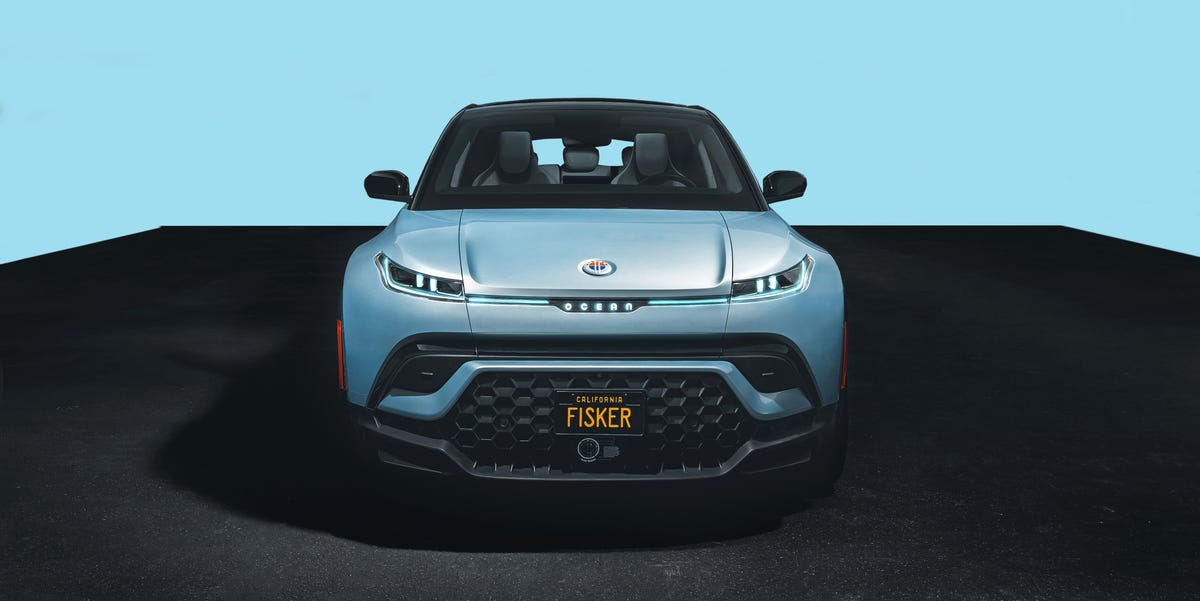 Henrik Fisker takes another turn in building luxury cars
Marc UrbanoCar and driver
Excerpt from the February/March 2022 issue of Car and driver.
Henrik Fisker's most iconic designs were posh BMWs and Aston Martins, and the Fisker Karma was a sporty sedan. Moving from high-end toys to the Fisker Ocean, a future affordable electric SUV, may therefore seem like a leap, but he says it's a smart move. "The best-selling segment in the world is SUVs. I have already designed a lot of luxury cars. I don't have to prove that we can design a sports car. Other companies [making EVs], they make $100,000 vehicles. This segment will look crowded." Austrian automaker Magna Steyr builds the Ocean in front-wheel-drive and all-wheel-drive configurations. The base Ocean uses a 275-hp engine and offers a range of around 250 miles; The Ultra and Extreme versions have two engines good for a combined output of 540 and 550 horsepower, respectively. Prices will start below $40,000.
Henrik Fisker arrived too early. Fisker Automotive's ill-fated first car, the shapely Karma, was a plug-in hybrid luxury car that beat Tesla's Model S to market, but succumbed to financial and technical disasters. It's ready to try again, with not one but several EVs in various stages of production. The Ocean is the closest to market, with deliveries scheduled for November. There is a mysterious model called PEAR (Personal Electric Automotive Revolution), which Fisker will only describe as being small, affordable and unlike anything else. At the time of our interview, a third was just a swoopy clay model in his studio. And Fisker says a fourth design is coming soon. It's a lot to tackle at once, but Fisker says the world is finally ready.
CD: What was wrong with the Fisker Karma?
Ficker: I was too early. I thought there must be a demand for a really cool, sexy, eco-friendly car. Wood salvaged from California wildfires. A vegan interior, which we called EcoChic. It just went over everyone's head. We literally had people buying the car saying, "What's that jack on the side?" It was an electric vehicle with a range extender, but people didn't care. They put gas in it – they didn't bother to plug it in, they laughed at the reclaimed wood. It was more than a year before the launch of the Tesla Model S.
So there were philosophical challenges, but also mechanical ones, huh?
We took a big technological risk on the battery. This company went bankrupt and we could not continue. It was not like today, with many different battery companies. LG was working with GM, Panasonic was with Tesla, and then there was A123 Systems, an American startup, which was a huge risk. And that turned out to be too risky, because they went bankrupt just as we were launching the car.
What is different with the Ocean?
Let's say there are three basic things I learned from Karma. No, four. One, timing is everything. Second, you need to have enough money from the start to the end of the launch. I didn't really want to start this program until I had a billion dollars, which we raised last year. You can't build something start-stop. It kills you. So, number two, get all the money back. Third, you need to review the technology and assess the risk. The battery is the biggest risk in [electric] cars, so we spent a lot of time working closely on a deal with CATL [Contemporary Amperex Technology Co. Ltd., a lithium-ion battery manufacturer].
What is number four?
Vehicle manufacturing – we need a strong manufacturing partner. We ended up with two: Magna Steyr to do the Ocean and Foxconn to do the PEAR. I go to a factory where people have worked together for 20 years, where they currently drive luxury vehicles. We will continue on the same line where BMWs and Toyotas are built by the same people. I mean, if that's not risk reduction, I don't know what risk reduction is. The quality of this car is, in my opinion, the least risky aspect of the whole program.
Speaking of quality, the initial response to Karma has been exorbitant. You have won awards. Then things started falling apart, both literally and financially. How do you develop the confidence to try again?
We took a beating for having a lot of technical issues. But what I understood at that time was that people were against electrification. They were just against VEs. They wanted to kill him. There were stories of battery fires, but we never had a lithium-ion battery fire. We had a fan fire. We had cars flooded in the harbor, and the insurance company said to get the insurance money, we had to be above the waterline. We were an inch below. So there were days when I woke up and thought everything was against me. You want to sink and die in your own grief. But you have to decide, do I get up even if it hurts, or do I stay in bed? I got up. The only thing I really know how to do is design a car. I'm not really good at anything else. Well, I'm pretty good at barbecuing too, but that's about it. I love cars, and I don't think we'll ever get rid of them. I don't believe in a future where everyone will take public transport. I mean, I grew up with it in Denmark. I never woke up dreaming of taking the bus. I dreamed of driving a car, of having my own car.
This content is created and maintained by a third party, and uploaded to this page to help users provide their email addresses. You may be able to find more information about this and similar content on piano.io