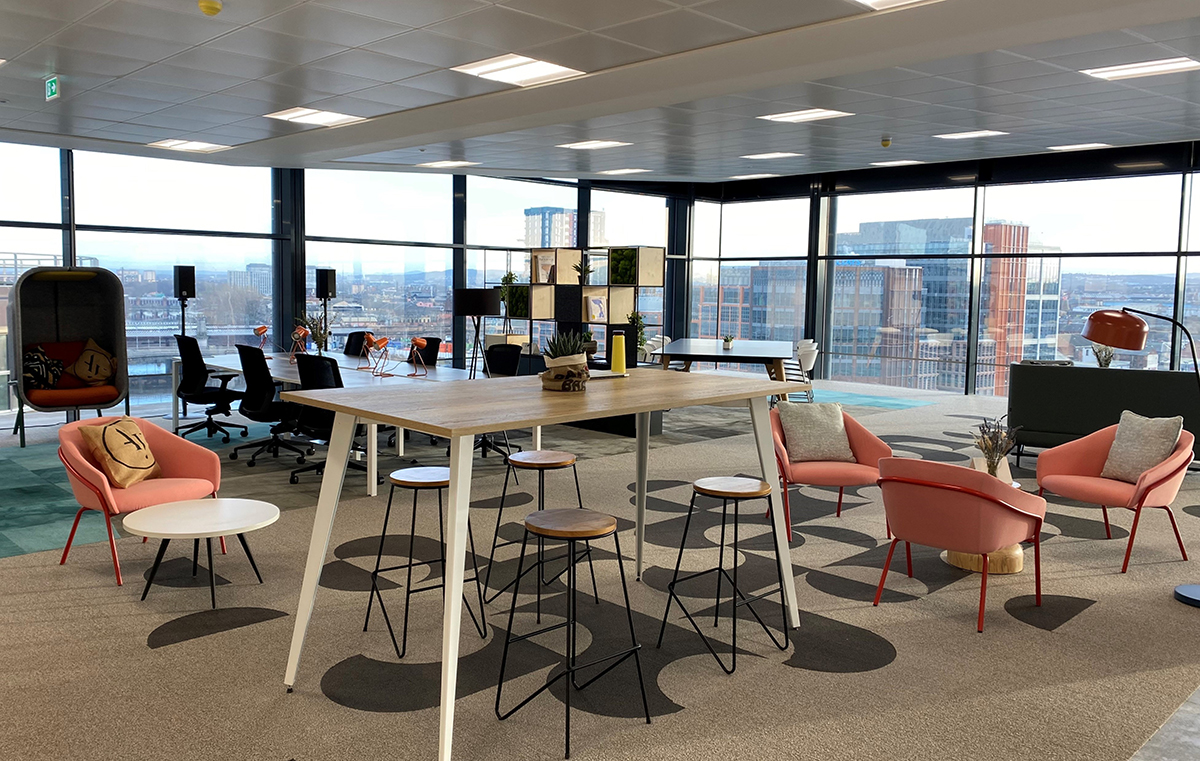 Glasgow office building's new marketing suite has 'sustainability at its heart'
Real estate investment firm AM alpha unveiled its new marketing suite on 8and floor at 200 Broomielaw in Glasgow.
The 80,000 square foot Grade A office building in Glasgow city center is currently undergoing renovation.
Reinforcing its strategy to create one of Scotland's most eco-friendly office buildings, AM alpha has revealed it has commissioned interiors and architecture firm C2 Concepts to create a marketing suite designed with sustainability in mind, with all furniture second-hand or made from eco-friendly materials.
Produced by small businesses, the cushions are made from recycled or reclaimed fabrics, including upcycled coffee bags, while the vases are made from recycled glass. The plant pots are 3D printed using recycled plastics and there's a cocoon chair made from felt constructed with 100% post-consumer recycled plastic bottles pulled from Amsterdam's canals.
AM alpha's Martin Lemke said, "We are delighted to unveil our brand new marketing suite at 200 Broomielaw, showcasing the quality of the space and offering a glimpse of what can be achieved. As with the rest of the building, it was designed with the planet in mind and we are proud to say that it only features recycled or second-hand furniture, supporting our overall approach to sustainability.
AM alpha previously announced that 200 Broomielaw was to be fully electric from 100% renewable sources. The firm has also committed to achieving an EPC A rating for the building, which it says will make 200 Broomielaw the first gas-free refurbished building to achieve the rating in Scotland.
Martin Lemke added: "The combination of renewable energy, smart building design, high quality specifications and smart technology will make 200 Broomielaw one of the most energy efficient office developments in Scotland. We are aiming for an EPC A rating and have installed sustainable technology to help our occupants reduce their carbon footprint and meet future environmental goals.
As well as being fully electric, 200 Broomielaw features new M&E services, electric car charging stations and LG7 LED lighting. Facilities to support active travel have been included and a Platinum CycleScore certification has been achieved. There will also be a wellness suite complete with a yoga studio and gym-style locker rooms in the basement.
JLL's Alex Mackay, co-letting agent alongside Reith Lambert, added: "With market-leading environmental credentials including EPC A lens, unrivaled views, wellness facilities and quality of space, 200 Broomielaw is arguably the best office building available in Glasgow. It will provide the city with much-needed Class A office space when complete, and given the demand we can make the 8and floor available for occupancy now that the work is complete, allowing quick access for fittings."