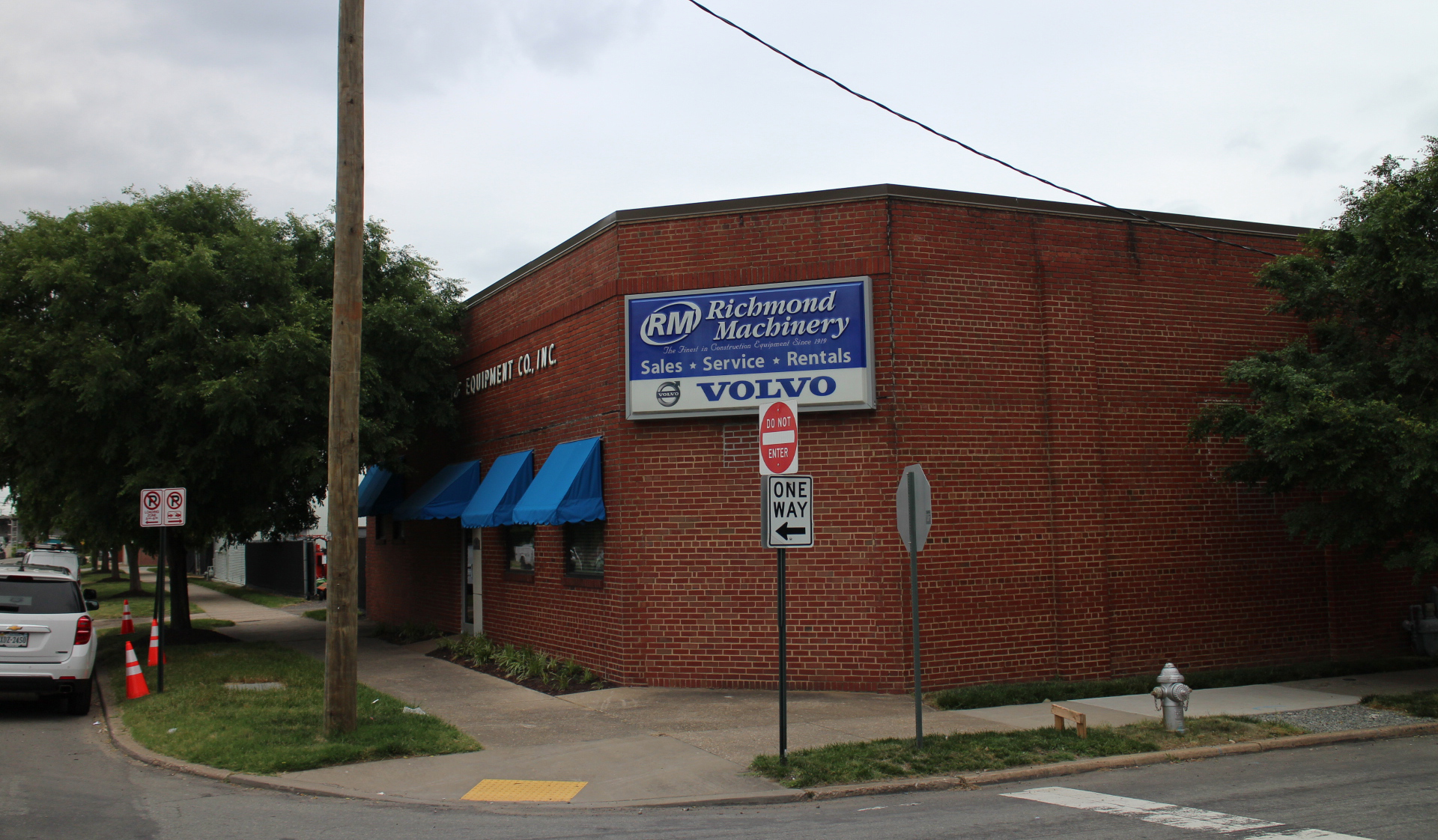 Blackwood Development plans 7-story building at Scott's Addition
As a 350-unit apartment project along Roseneath Road in Scott's Addition approaches the finish line, the gears are already turning to attract hundreds more residents right next door.
The Blackwood local development plans a 250-unit mixed-use building at 1701 Roseneath Road.
The new 7-story, 48,600 square foot construction project would replace the complex currently home to building contractor Richmond Machinery & Equipment Co., which spans three buildings along Roseneath Road between Norfolk and Rockbridge streets.
The site is just north of The Otis, a city block-sized mixed-use development between Greystar and Capital Square that is nearing completion at 1601 Roseneath Road.
Blackwood's partner, Nolen Blackwood, confirmed the company had the 1.2-acre parcel at 1701 Roseneath under contract, but declined to comment further. The property was recently appraised by the city at $2.5 million.
Blackwood is seeking a Special Use Permit for the Roseneath project, as the site's current B-7 Mixed-Use Business District zoning only allows up to five stories.
"This application represents an ideal urban infill development for this location," writes attorney Jennifer Mullen of Roth Jackson, Blackwood's attorney, in their recently filed SUP application.
510 Architects is listed as the designer of the building and Bohler Engineering is the engineer.
This will be at least the second project for Blackwood in Scott's Addition, joining its renovation of the former Infuzion Dance Club building into a Wood & Iron Gameday location at 1403 Roseneath Road.
Other recent Blackwood projects include Winterfield Crossing in Chesterfield and the Eclipse Building in the Fan, anchored by Canon & Draw Brewing Co. Blackwood is also involved in the ongoing redevelopment of the Caravati Building in Manchester and a new five-storey building. floors which is planned to rise in front of him.
Of the 250 apartments in the Roseneath project, 200 would be one-bedroom or studio units, the rest two-bedroom. It would be supported by a 226-space parking deck and 24 surface spaces, according to plans, with amenities including a courtyard and swimming pool. Approximately 4,000 square feet of retail space is also included in the plans.
It is unclear what Richmond Machinery's plans are once the property is sold. The century-old company has owned the Scott's Addition site for decades.
As Blackwood seeks to close on the Richmond Machinery site, another group of local developers recently struck a deal on that same block. Last week, Jeff, Jay and Keith Nichols, owners of the nearby HandCraft building, purchased 1708 MacTavish Ave. for $825,000.
This 0.2 acre site houses an approximately 5,300 square foot warehouse for electrical contractor PowerTec Inc. and is located behind where Blackwood is planning its project. The land is also adjacent to a 15,000 square foot warehouse at 1710 MacTavish Ave., which the Nichols bought last August for $1.7 million.
Jeff Nichols said it was an investment deal and they had no immediate redevelopment plans.
The rest of the block is occupied by the Paper Moon.