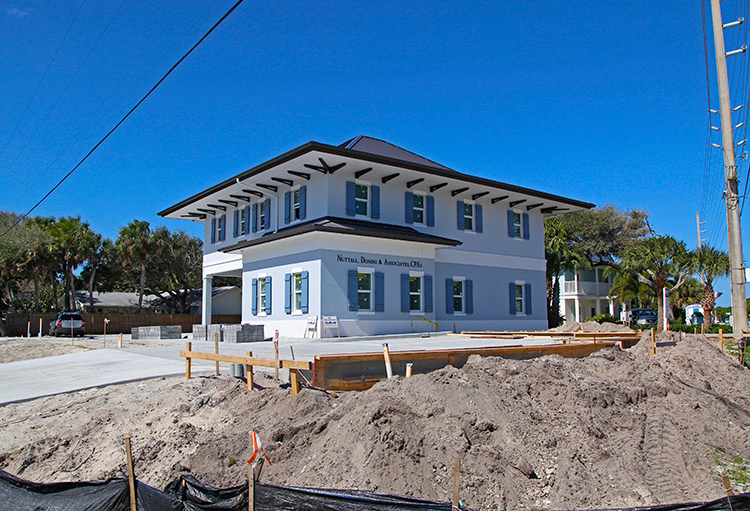 A1A Office Building Undergoes $1 Million Makeover – 32963 Features, Real Estate
You could do a double take as you pass the two-level commercial building at 5055 A1A in Central Beach, a few blocks north of Village Market.
The substantial 30-year-old building, which sits on a 1/3 acre lot, is in the final stages of a $1 million renovation that has totally transformed this prominent island structure.
Formerly the home of Rebecca Star Interior Design and later a real estate office, the building when completed will be the new office of Nuttall, Donini and Associates, CPAs.
The building still looks vaguely familiar, as the main hipped-roof structure has been left intact, but also completely new.
Once an eye-catching Mediterranean beauty with a warm reddish exterior, sleek design elements and dramatic balconies, it now has a clean, coastal look, often referred to as 'transitional', participating in both modern and traditional design.
The old wrap-around balcony that was the building's most prominent feature, giving it a Gothic or Antebellum vibe, is gone and the assertive, red-centric Mediterranean palette has been replaced with cool, sophisticated whites, grays and blues. , said owner Scott Nuttall. , by the sea and the sky.
Nuttall bought the building from Rebecca Star for $600,000 in 2020 to accommodate her expanding business, which is rapidly outgrowing its current space on Cardinal Drive.
The project's general contractor is builder Vero Bill Bryant and Associates Inc., and Nuttall didn't have to go far to find the perfect interior designer. His wife Alexandra is the owner and chief designer of Coastal Design, a full-service interior design studio located on A1A, a few blocks south of the renovated building. Together, Nuttall said, they did most of the design drawings and had little need for an architect.
To begin the transformation, the interior was gutted and the wraparound balcony, deemed "structurally deficient", was removed.
"It would have cost at least $150,000 to fix it," Nuttall notes, adding that all along the island, balconies on older buildings close to the ocean are removed due to damage to the bracing bar. metallic by the salty sea air.
The original 7 inch thick poured concrete floor between the first and second level was left in place. That, along with all new windows and doors, hurricane shutters, and other code upgrades, made the building a sleek bunker. "When we have a hurricane," Nuttall jokes, "I stay here."
Interior features include 9 foot ceilings, 8 foot doorways; an elevator; a waterfall feature; bathrooms on both floors; a small, well-equipped kitchen; a blue and white color scheme and new flooring throughout – carpeting in the main offices and gray vinyl plank flooring elsewhere.
There is also a new balcony, on the east side only, with wonderful sea views. Here, under the eaves, bespoke decorative architectural brackets in a dark brown provide a striking focal point against the white exterior and blue.
Alexandra Nuttall explained how the design and color palette evolved.
"Our concept started by combining the traditional with a modern twist," she says. "We wanted to keep in mind Scott's established presence in the community while adding a coastal touch."
He wanted a "welcoming appeal" to make customers and employees feel comfortable and wanted to keep the aesthetic "clean and bright."
"This was achieved," she said, "by bringing the clean, crisp lines of the exterior to the interior and maintaining the coastal color palette to provide a seamless flow.
"We brought in modern elements like the waterfall on the second floor, linen tiles for the lobby, and traditional elements with the conference room moldings and custom wainscoting.
"We are delighted to have the opportunity to renovate an outdated building in such a prime location."
Standing on the south side of the building, gazing at the beautiful reincarnated structure, Nuttall said he originally hoped to move into the building in November 2021, but work took longer than expected due to chain issues. procurement which caused delays in obtaining concrete. and materials needed for drainage works.
"Some of the things we needed were stuck at the Port of Miami," Nuttall said. "I knew they were having trouble on the West Coast, but I didn't realize so many materials were going through Miami."
When the building is complete – Nuttall is now hoping for a mars commander – his company will occupy the second level. So far one tenant, Sihle Insurance, has registered for a space on the first floor
Since buying the building, Nuttall's roster of employees has grown from 13 to 16, and he expects a few more hires this year.
"It's kind of like 'Field of Dreams.' If you build it, they will come."