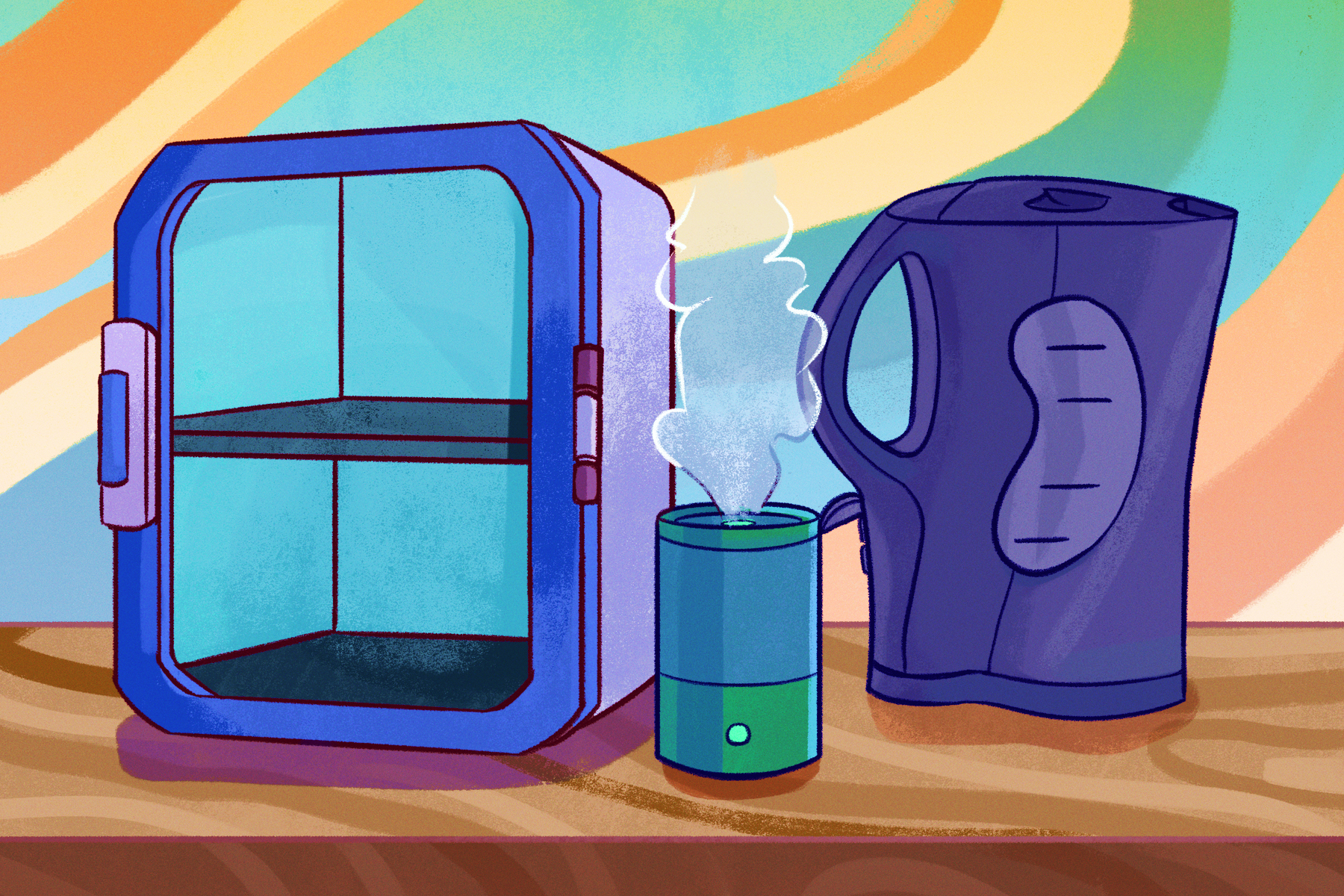 7 dorm-friendly food and wellness appliances to improve college life
Living in a dorm doesn't mean you have to sacrifice the comforts of home. Here are seven dorm-friendly devices that are cost-effective and useful no matter what type of on-campus housing you live in.
Often, campus dorms have a bulky rulebook that students must follow for the safety of everyone who lives there. One of the most comprehensive sections of these rulebooks is What Can and Cannot Be Contained in Students' Personal Living Spaces. However, there are many devices that students can use instead of prohibited items in their accommodation. By getting these simple devices, students can make their campus life more enjoyable.
The best dorm devices have multiple uses, even for things the device manufacturer might not have intended. Other appliances may only serve one purpose, but even these can be crucial to making a dorm room welcoming.
1. Mini fridge
Some students have full kitchens, some only have kitchenettes, and some eat meals in dining halls. Regardless of the food situation at your school, having a mini fridge can be a big help. They can be used for leftovers, fruits and vegetables, desserts, drinks and more. Students can even find one that matches their room aesthetic!
There are tons of options for all price ranges, size requirements and storage necessities. While it may be necessary for some to have a chilled and frozen section, door space for drinks may be more important for others.
2. Brita Water Pitcher
Once students have secured a mini fridge for their room, it's time to start thinking about what to put in it! A filter water pitcher is a must-have for college students living in a dorm. Having a water pitcher in the room eliminates the need to leave your room for water from a fountain or dining room. Additionally, filtered water can be used in place of tap water for food, plant watering, humidifiers, and more.
3. Keurig machine
Keurig has an extensive collection of coffee makers for casual drinkers and coffee connoisseurs. Within these collections, they have offered machine designs to suit every coffee drinker's space.
College students should consider getting the Keurig "K-Mini Single Serve Coffee Maker" The thinnest brewer in the business, at less than 5 inches wide, perfect for any tight dorm space. The Brewer comes in six fun colors, branching off from their typically neutral tones. The brewer uses normal K pods and produces the same great tasting coffee.
4. Electric kettle
One of the main rules regarding appliances in dorm rooms often concerns flames and open heat sources. Students are generally not permitted to use candles, hot plates, or any other device with an exposed heat source. This means students have no way of boiling water, whether it's for drinks, cooking food, or cleaning items. A electric kettle solves this problem. These plug-in kettles can often hold around a liter of water, come with automatic shut-off settings, and provide hot water for many purposes.
5. Empty
The cleanliness of your living space can make or break your peace of mind when you spend time there. A small vacuum cleaner is a beautiful (and crucial) device to help clean up messes quickly, keep things cleaner longer, and help clean things that otherwise wouldn't be touched. Vacuums can be used on dorm rugs, rugs and more.
Living in a space without carpet? There are still vacuum cleaners to use! To verify those hardwood vacuums for areas without carpet.
6. Essential Oil Diffuser
The candles are great; they help brighten up dark spaces, fill a room with a pleasant fragrance, and give many people an overall feeling of joy. But when you live in a college dorm, having a candle is out of the question. To combat this, students can provide a essential oil diffuser in their space. An essential oil diffuser can deliver the pleasant scents of candles while providing a little aromatherapy, which every college student desperately needs.
Students can collect some of their favorite essential oils and use them for different scenarios, helping them focus, sleep more, or even be happier.
7. Fan or noise machine
Students rarely live in their own private space. Dorms are meant to accommodate a large number of students, not to mention the number of roommates students can live with. Each student comes from a different background, with different expectations and lifestyles. Often this can cause problems with the noise level of their dormitory.
A noise machine can help alleviate some of the issues with rowdy roommates. It's hard to do anything after a restless night's sleep, especially homework. White noise machines can help students block out the noise around them, eliminate some of their stressful thoughts, and get a sound sleep through the night. Noise machines can help them wake up refreshed and ready for the day ahead.
A box fan or oscillating fan can be the perfect solution for students who want a noise machine that doubles as a room cooler. They provide both white noise and fresh air to help students get the comfortable sleep they deserve.
Students shouldn't have to sacrifice comfort and happiness because they live in a small space. Including a few of these simple devices in your dorm can help you live better while studying. Being away from home can be hard enough, and students need to have a healthy living environment to perform at their best in class.
While some of these devices aren't the most glamorous, they each serve their own purposes and can dramatically enhance a person's living space. If you or someone you know is about to move into a dorm, consider purchasing some of these items to make your days easier and happier.